Welcome New Students!
Congratulations on your acceptance to Bard High School Early College (BHSEC). We are delighted that you will be joining us in the fall.
We start the fall semester with a Writing and Thinking Workshop where you will work closely with a small group of students and one of our teachers. You will learn to read and listen more thoughtfully, to articulate ideas, to review your own work critically and, most basically, to recognize the link between thought and expression.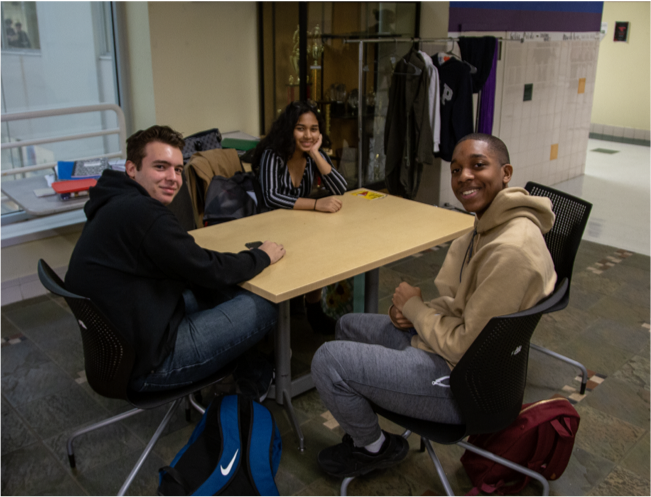 Acceptance Notification
Schools and families will receive High School Admissions Round 1 results by March 20th, 2020. Please contact your guidance counselor for specific questions.
Visitation Days
This event has been cancelled. You will receive a link with a website of videos that our current students have put together for you.
Congratulations on your acceptance to Bard High School Early College Queens, BHSECQ! Your application to BHSECQ and match to our school show that you are serious about learning and seek academic challenge. In order to experience the intellectually engaging community that we hope will be your home for the next four years, we'd like to invite you to visit. We are eager to welcome you to our school, and we invite you to sit in on two academic classes with choices that include courses in two of the following: math, science, humanities and arts. The time slots for possible visits are 8:50 – 10:35 am, 10:35 – 12:15 pm, 12:10 – 1:55 pm, or 1:50 – 3:35 pm. Please note that these visits are completely optional and are only meant to help you make an informed decision.
Saturday Seminar
This event has been cancelled.
Educational workshops for families hosted by BHSECQ faculty and the PTA. Come join us for a fun day of engaging classes taught by BHSEC Queens faculty members. This event is open to all BHSEC community members. We will do our best to accommodate requests for translation. Lunch will be provided by the PTA. Please register HERE beginning March 15th.
New Student Orientation
Wednesday, June 10th, 2020 at 6 PM
This event will be held remotely on ZOOM. Please check your email for details.
Parent/Guardian Breakfast and Placement Exams
The Breakfast has been cancelled and placement exams will happen remotely. Please check your email for details.
Those with any previous experience in Spanish, Chinese or Latin will need to take a language placement exam. Each exam is an hour long. Students without any previous foreign language experience do NOT need to sit for a foreign language placement exam. After the exams students will take a picture for their BHSEC identification cards.
We also invite parents/guardians to join us for a welcome breakfast while students are taking the exams.
Music Questionnaire
Hello and greetings from the Music Department at BHSEC.  Congratulations on your acceptance to our school!  In an effort to learn more about your past musical experiences and help you transition into our school's music program, we would like ALL incoming 9th grade students to fill out the following questionnaire.  BHSEC Queens has a strong music program to offer students and all are welcome! Please click here to access the questionnaire.
Summer Bridge
Monday, June 29th and Tuesday, June 30th, 2020
Summer Bridge will be held remotely this year. Please check your email for details including times and ZOOM links.The Summer Bridge program is an informal introduction to our school and is intended to familiarize accepted students with BHSECQ's academic culture. It is also an opportunity for incoming students to get to know their fellow classmates, meet our faculty, and attend classes in the arts, Spanish, Chinese, and Latin. By sampling our Foreign Languages and Electives, students will be able to fill out the Preference Form for Foreign Languages and Electives.